Back to a Manly Silhouette
---
Gynecomastia is the medical term for enlarged male breasts. There are two forms, "real gynecomastia" with increased glandular breast tissue and "pseudogynecomastia" as a result of obesity.
Reasons for this swelling of the gland tissue may be hormone disorders in the adrenal glands or the testicles. Also, a gynaecomastia may develop due to unwanted medication side effects; but this will in most cases regress when the triggering medication is discontinued. A gynaecomastia normally appears on both sides; a one-sided breast enlargement is rare. In very rare cases, there may be a breast cancer forming in the enlarged mammary gland even in men.
The experiences made at the Nürnberger Klinik for Aesthetic Plastic Surgery show that a slight form of gynecomastia during puberty is not uncommon; it will normally recede by itself and does not require any treatment.
Your Benefits with a Gynaecomastia Treatment at the Nürnberger Klinik for Aesthetic Plastic Surgery at a Glance: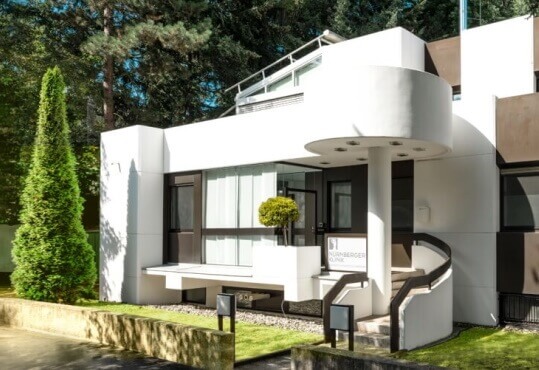 Ultrasonic suction for tightening the tissue
Further education provider for breast surgery
Focus clinic and competence centre for breast surgery
Two experienced medical specialists for aesthetic plastic surgery attending during the operation
Continuous contact person, since clinic is owner-operated
Intensive aftercare process desired
Your Experts For Gynaecomastia
Gynecomastia changes the silhouette of the upper body, making it appear more feminine – which puts a lot of stress on men suffering from this condition. Not only because of a confusing self-perception but especially because men will be subjected to pejorative remarks, e.g. when working out. Such remarks can weigh heavily on one's self-esteem, the term "moobs" still being one of the nicer things that men have to endure.
Fortunately, correcting the situation can in most cases be achieved at the Nürnberger Klinik for Aesthetic Plastic Surgery by surgery that is both unproblematic and promises lasting effects. However, in cases where gynecomastia is the result of obesity, weight reduction should be achieved first – not least because of the comprehensive positive health effects connected with this. Only after weight loss has proven not to be feasible or not successful will surgery be considered as a rational option.
Financing
---
Feel free to pay for your treatment in instalments. Here you can find further information about Financing.
Arrange a consultation appointment!
Nürnberger Klinik für
Ästhetisch-Plastische Chirurgie
Sibeliusstr. 15
90491 Nürnberg
Germany
Phone
+49 911 95 96 10

Telefax
+49 911 9596 130
WhatsApp
+49 175 7207500
Opening hours
| | |
| --- | --- |
| Monday – Thursday | 8 am – 6 pm |
| Friday | 8 am – 5 pm |