Dr. med. Jens Baetge, experienced and internationally renowned plastic and aesthetic surgeon ("beauty surgeon") is the director of the Nürnberger Klinik für Ästhetisch-Plastische Chirurgie which has been in existence for more than 50 years. During this time, more than 70,000 patients have been successfully treated in our beauty clinic.
He will take plenty of time for you – starting with comprehensive advice and consultation all the way to the reliable treatment – and he will conduct all measures with competence, medical expertise and care.
Dr. med. Jens Baetge is well-versed in state-of-the-art treatment methods in aesthetic surgery, in breast, head or face surgery, just as in tissue surgery or wrinkle treatment.
He is supported by our team of experienced anaesthesiologists, nurses and service staff who are at his side during each measure and who care for you, so that your stay in our clinic will be an ideal one.
For us, modern technical equipment goes hand in hand with innovative treatment methods and the ongoing further training and education of our team.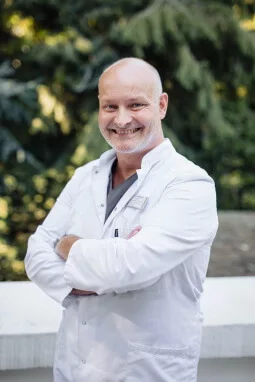 That's how we make the best use of medical advances for your intentions, and that's why we are able to offer you methods that are both so gentle and effective as can be at the current state of medical knowledge.
After all: your happiness and your well-being are our highest aim.
In this, Dr. Baetge continues the tradition started some 50 years ago by Dr. Gsell – the founder of Nürnberger Klink for aesthetic and plastic surgery and of the Deutsche Gesellschaft für Ästhetisch- Plastische Chirurgie (German Association for Aesthetic- Plastic Surgery).
Dr. med. Jens Baetge is a member in these medical associations:
Deutsche Gesellschaft für Ästhetisch Plastische Chirurgie (DGÄPC)
Vereinigung der deutschen Ästhetischen-Plastischen Chirurgen (VDÄPC)
Deutsche Gesellschaft für Plastische, Rekonstruktive und Ästhetische Chirurgie (DGPRÄC)
Gesellschaft für ästhetische und rekonstruktive Intimchirurgie Deutschland e. V.
Arrange a consultation appointment!
Nürnberger Klinik für
Ästhetisch-Plastische Chirurgie
Sibeliusstr. 15
90491 Nürnberg
Germany
Phone
+49 911 95 96 10

Telefax
+49 911 9596 130
WhatsApp
+49 175 7207500
Opening hours
| | |
| --- | --- |
| Monday – Thursday | 8 am – 6 pm |
| Friday | 8 am – 5 pm |