More determined profile, target-oriented appearance
The vernacular is renowned for its pointed if somewhat crass sayings. So people with a receding chin are supposed to be weak, lacking in character, not to be taken seriously.
Such a discrimination of the individual person is of course unfair and a burden. As a result, people with a small chin often have been suffering from prejudices ever since they were little children.
Hence, it is very understandable that they may wish for a larger, more characteristic chin which helps their face and thus their entire person take on a more determined expression. At the Nürnberger Klinik for Aesthetic Plastic Surgery, this wish can become true thanks to chin enlargement.
Your Chin Enlargement Benefits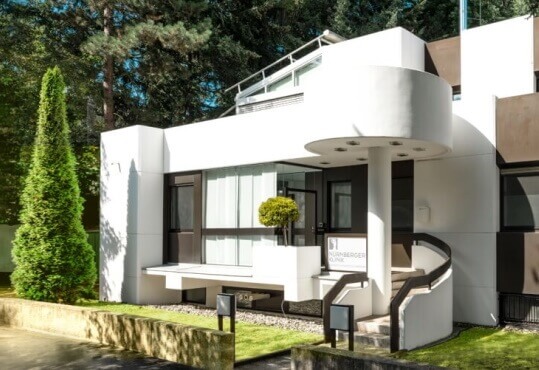 Specialists in plastic-aesthetic facial surgery
At least two comprehensive before/after consultations
Highest quality and hygienic standards
One and the same contact, also after the operation
Intensive aftercare process desirable
Very frequently conducted treatment method
Your Experts for Chin Enlargement
FAQ on Chin Enlargement

---
A very small or receding chin will distort the proportions of an otherwise attractive face – the visual closure is lacking. In such cases, one might consider a chin enlargement.
Apart from the already mentioned prejudices, women are often bothered by the small chin visual appearing like a double chin – even if the entire person is slender.
Men often hope for more characteristic, "manly" features following a chin enlargement.
For anyone suffering from their weak chin area, there are several methods for a chin enlargement.
The specialists at Nürnberger Klinik for Aesthetic Plastic Surgery will be happy to advise you in detail about which possibilities for chin enlargement exist in your particular case. Please feel free to contact us about this.
In order to give more profile to a small or even receding chin, there are basically two methods for chin enlargement at Nürnberger Klinik for Aesthetic Plastic Surgery: the first method uses either the body's own material (e.g. cartilage tissue taken from the pelvic bone) or an implant, and positions this in front of the jawbone.
In the other version of a chin enlargement, a gap is being sawed into the lower part of the jawbone; a piece is taken out and repositioned a bit towards the front, without losing contact with the jaw muscles. In this new position, it will be screwed fast by means of a metal brace.
Access takes place either through the oral cavity via an incision between gums and lower lip (resulting in no outwardly visible scars). Or should an incision from the outside be necessary, it will be placed unobtrusively below the chin.
At Nürnberger Klinik for Aesthetic Plastic Surgery, chin enlargement may be performed under local anaesthesia or general anaesthesia.
As a rule, no stay at Nürnberger Klinik for Aesthetic Plastic Surgery will be necessary afterwards. After the operation, the skin area will at first be swollen. Cooling compressions and sleeping with the upper body raised will help ease the swelling. In case of operations through the oral cavity, sometimes an infection may occur, which is why keeping a meticulous oral hygiene regime is important following a chin enlargement.
During the healing phase, you should drink only water and tea, and for a while eat only soft food. During the first ten days, you will be wearing a dressing supporting the chin area; you should by all means avoid vibrations or shocks. Stitch removal takes place after eight days; in case of an operation via the oral cavity, the sutures used are self-dissolving. After 2 weeks, you will as a rule be able to take up your normal life again. In rare cases, the implant may dislodge during the healing phase; in that case, a second, corrective operation will be necessary.
We will inform you comprehensively in a detailed personal consultation at Nürnberger Klinik for Aesthetic Plastic Surgery about any potential risks as well as how we will proceed with the chin enlargement in your individual case. Please feel free to contact us about this.
Financing
---
Feel free to pay for your treatment in instalments. Here you can find further information about Financing.
Arrange a consultation appointment!
Nürnberger Klinik für
Ästhetisch-Plastische Chirurgie
Sibeliusstr. 15
90491 Nürnberg
Germany
Phone
0911 95 96 10

Telefax
0911 9596 130
WhatsApp
+49 175 7207500
Opening hours
| | |
| --- | --- |
| Monday – Thursday | 8 am – 6 pm |
| Friday | 8 am – 5 pm |