The face and neck are the areas most visibly affected by increasing age. There, the skin is less robust and thus more prone to suffer from adverse influences. Exposure to sunlight, environmental stimuli, but also not enough sleep, too much stress, smoking, or strong make-up all leave their mark on the skin in everyday life without us being able to avoid it.
The result are more or less pronounced wrinkles, which have one thing in common: they are never welcome, since they change our appearance and aura. A neck lift at Nürnberger Klinik for Aesthetic Plastic Surgery is promising relief.
The front side of the neck is covered by the platysma muscle which spreads directly underneath the skin and extends from the lower jaw sideways and down. If this muscle slackens and the tension of the skin decreases, it will sag, and this looks as if there were a surplus of skin. With a neck lift, we can rectify this sign of passing time without leaving apparent traces, thus visibly rejuvenating the look.
Your Benefits with a Neck Lift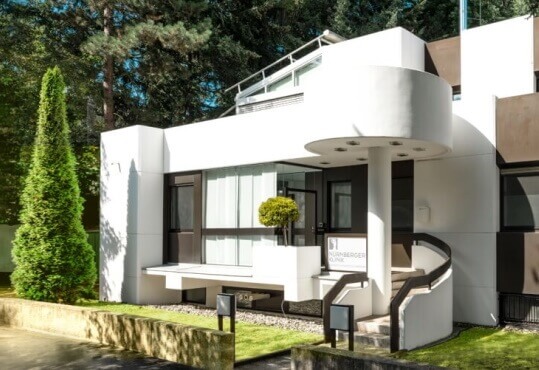 At least two comprehensive before/after consultations
Frequently conducted treatment method
Professional stationary care on a dedicated ward
Innovative method for reducing bruises and swellings
One and the same contact, also after the operation
Intensive aftercare for optimum results
Strict hygiene and safety standards
Your Experts for Neck Lifts
Faq on Neck Lift

---
If sports and nutrition are not enough to tighten the neck and reduce a potential double chin, then there are – depending on the individual situation – several neck lift methods available at Nürnberger Klinik for Aesthetic Plastic Surgery.
In general, it should be considered whether tightening only the neck will be sufficient. Where appropriate, a combination of face lift and neck lift might be considered.
Your team of Nürnberger Klinik for Aesthetic Plastic Surgery will be happy to advise you in detail about which possibilities for a neck lift exist in your particular case. Please feel free to contact us about this.
This surgery will as a rule take place with local anaesthesia as conscious sedation. Afterwards, you should stay two or three days with us at Nürnberger Klinik for Aesthetic Plastic Surgery.
Young patients with good skin quality and only a slight double chin will generally only require a mini neck lift. For this, we at Nürnberger Klinik for Aesthetic Plastic Surgery place a tiny incision underneath the chin, about 5mm long, through which fat is suctioned through a fine cannula.
In case of a more pronounced double chin and a slightly sagging platysma muscle, fatty tissue will be removed via a horizontal cut of about 5cm underneath the chin, and the muscle is then tightened.
It is a precondition for a neck lift that your skin is still capable of shrinking.
In case of pronounced sagging of the neck skin, the cut for the neck lift has to be performed more liberally, since more fatty tissue and skin need to be removed. In this case, the incision will follow a zigzag or W-shaped line from the chin down to the larynx.
This incision will ensure that when the scars will later shrink during the healing phase, no asymmetries will occur.
Swelling and bruising after the operation are possible. In order support the neck lift healing, it is important to wear a compression dressing for a few weeks. How long this will be necessary depends on the severity of the operation: in case of a mini neck lift, 1–3 weeks will suffice. In case of larger operations, it should rather be 3–5 weeks.
Especially during the first days following the neck lift, you should rest a lot, i.e. speak as little as possible, chew as little as possible, and avoid turning your head. In case of larger operations with several incisions, you should plan a sufficient phase of rest of several weeks. The stitches will be removed after one or two weeks at the Nürnberger Klinik for Aesthetic Plastic Surgery. Somatosensory disorders of the skin occurring after a neck lift are as a rule only temporary.
We will inform you comprehensively in a detailed personal consultation about any potential risks as well as how we will proceed with the neck lift in your individual case. Please feel free to contact us about this.
Financing
---
Feel free to pay for your treatment in instalments. Here you can find further information about Financing.
Arrange a consultation appointment!
Nürnberger Klinik für
Ästhetisch-Plastische Chirurgie
Sibeliusstr. 15
90491 Nürnberg
Germany
Phone
0911 95 96 10

Telefax
0911 9596 130
WhatsApp
+49 175 7207500
Opening hours
| | |
| --- | --- |
| Monday – Thursday | 8 am – 6 pm |
| Friday | 8 am – 5 pm |