Dr Zuzana Vodslon possesses comprehensive experience in the areas of burn surgery and aesthetic surgery, as well as hand, intensive, and trauma therapy.
She studied medicine at Charles University in Prague. As Assistant Physician in general, burn, vascular, and plastic surgery and as the clinic's Senior Physician for hand surgery and reconstructive micro-surgery, then heading a practice for plastic surgery in Zwickau, this specialist has a long-standing professional track record comprising experience gathered both nationally and internationally. Zuzana Vodslon is licensed in four countries whose languages she speaks fluently. Among others, she also has the coveted US-American doctor's license and is allowed to carry the title of "M.D.". She spent part of her specialist medical education at hospitals belonging to the renowned Columbus University in New York (Ivy League), and at the University in Copenhague.
She expanded her sphere of knowledge by conducting several research activities in the areas of plastic and burn surgery and wound healing at the Weill Medical College of Cornell University in New York. Dr Vodslon offers her patients a wide range of treatments. She is particularly specialised in eyelid tightening, body forming, breast enlargement, breast lift, breast reduction, abdominoplasty, liposuction, and intimate surgery. Moreover, she has years of experience with filler and botox treatments.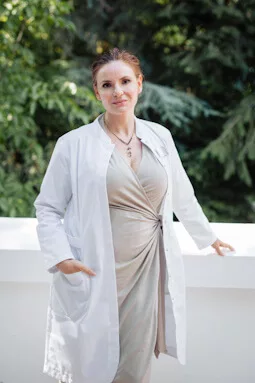 Dr Vodslon successfully passed her medical specialist exam in 2015. Since Ocotober 2021, she is enrolled at the Friedrich-Alexander-Universität Erlangen-Nürnberg for the dual study Master's course MHBA.
Dr Zuzana Vodslon's working style is characterised by her particular focus on performance and solution orientation, and she shows the utmost care in designing treatment concepts that are individually adapted to each patient. This medical specialist grew up in a bilingual environment; she thus speaks both German and Czech as a native speaker. She is also fluent in English and Danish, and she is well-versed in French.
A short overview of the professional qualifications of Dr. Zuzana Vodslon:
Studying Human Medicine at the 1st Medical School at Charles University, Prague, Czech Republic
Promotion to MU Dr at the 1st Medical School at Charles University, Prague, Czech Republic
Medical specialist for plastic and reconstructive surgery, burn surgery – Jacobi Burn Fellowship
As a single parent who has found her place in life, she always listens closely to her patients. In her work, she deploys her very unique mix of empathy, experience, and passion for aesthetics in order to turn the slogan "Be Beautiful. Stay Natural." into the individual treatment concept for her patients.
In her private life, Dr Zuzana Vodslon is a Sci-Fi enthusiast. She also loves grand opera and ballet stagings, which is why she is particularly happy about Nuremberg's cultural scene. Dr Zuzana Vodslon can relax while horseback riding, swimming, and cooking, at least when she is not trying to lose those last five pounds.
Dr Zuzana Vodslon is a member of the following expert associations:
Orderly member of "Deutsche Gesellschaft der Plastischen, Rekonstruktiven und Ästhetischen Chirurgen" [German association of plastic, reconstructive, and aesthetic surgeons]
Member of "Deutsche Gesellschaft für Verbrennungsmedizin e.V." [German association of burn medicine]
Member of the Czech association of burn medicine
MUDr. Zuzana Vodslon - jameda.de
Arrange a consultation appointment!
Nürnberger Klinik für
Ästhetisch-Plastische Chirurgie
Sibeliusstr. 15
90491 Nürnberg
Germany
Phone
+49 911 95 96 10

Telefax
+49 911 9596 130
WhatsApp
+49 175 7207500
Opening hours
| | |
| --- | --- |
| Monday – Thursday | 8 am – 6 pm |
| Friday | 8 am – 5 pm |