B-Lite – the Most Lightweight Breast Implant in the World
As the first clinic for aesthetic surgery in Nuremberg, Nürnberger Klinik for Aesthetic Plastic Surgery now offers the innovation in breast enlargement. Thanks to a revolutionary development, the implant's own weight is reduced by up to 30%. Still, the desired volume result remains completely as desired by the patient. The ultra-lightweight B-Lite is easy on the connective tissue, both the skin's elasticity and the mammal tissue are clearly stressed less. The outer appearance is more sustainably kept in shape.

Your Breast Enlargement Benefits with a B-Lite Implant
at the Nürnberger Klinik for Aesthetic Plastic Surgery
at a glance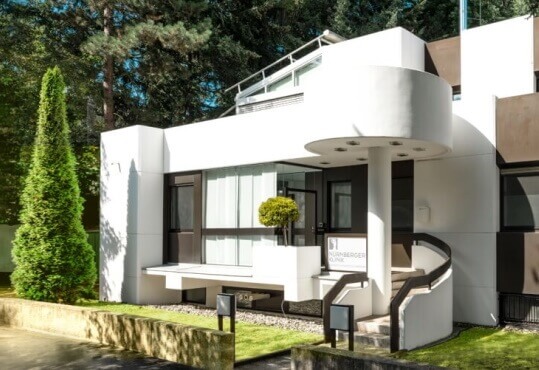 Up to 30% less weight
The only manufacturer from Germany bearing the "Made in Germany" label
Leading manufacturer of breast implants, more than 30 years' experience
Ultra-lightweight, also well-suited for active women
Innovative
More sustainable treatment results
Also suitable for women with weak connective tissue
Your Experts for B-Lite Implants in Nuremberg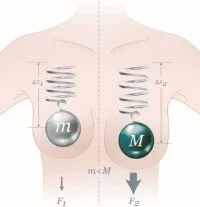 The many benefits of this innovative implant manufactured in Germany are up to very discerning quality expectations. Patients who have an athletic and active lifestyle can easily decide on this premium implant. Safety and security thanks to the CE certification and manufacturer's extended B-Lite warranty as well as the increased quality of life it provides make B-Lite a luxury-class lifestyle product.
B-Lite implants are suitable for all operation methods offered by the Nürnberger Klinik for Aesthetic Plastic Surgery.
What do B-Lite users say?
---
"Dr. med. Jens Baetge is a competent, trustworthy and empathic doctor ... the result is sensational. Dr. med. Jens Baetge is a competent, trustworthy and empathic doctor ... I can recommend him 100% …"
FAQ on Breast Enlargement with B-Lite

---
Quality and safety are the prime focus for B-Lite as well. The German manufacturer has been a prime example of quality and experience in implant coatings for more than 30 years. As one of the leading manufacturers, they can attach the "Made in Germany" label to their products, thus ensuring user safety and security in terms of origin as well as carrying the CE certification.
B-Lite has the further advantage of a unique combination: for its outer skin, B-Lite uses the same coating as the tried-and-tested brand implants, while for the filling, it uses an innovative technology – a physical compound of silicone and borosilicate which has been used for medical applications for many years. This filling, the so-called micro-spheres, make B-Lite more lightweight. This results in a tangible benefit of up to 30% less weight for the user.
Of course, B-Lite implants are being offered in all shapes and sizes.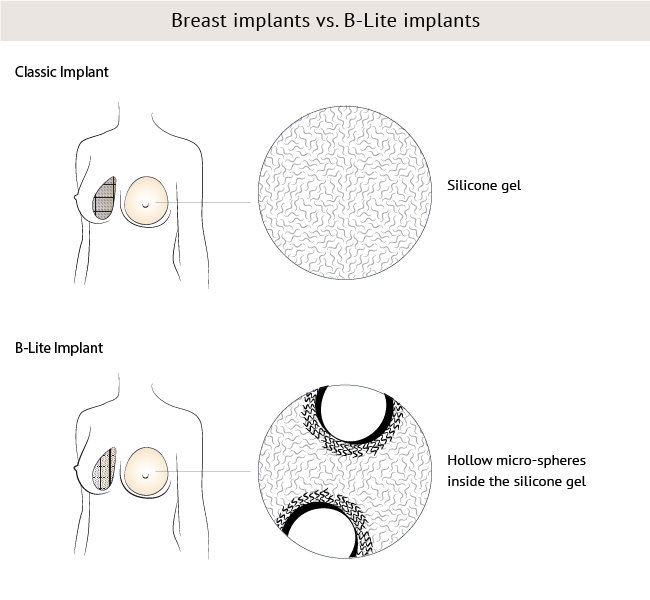 Implants with this gel filling remain in shape, the filling cannot leak. Patients benefit from B-Lite implants thanks to their high degree of safety, the lighter weight without loss of volume, and the desired form stability.
A breast enlargement with B-Lite implants at Nürnberger Klinik for Aesthetic Plastic Surgery will cost approx. 8,800 EUR. Plus the costs for anaesthesia.
This ultra-lightweight implant is particularly suitable for active and athletic women and for women with a weaker or sensitive mammal connective tissue. Patients whose lifestyle includes frequent travels and athletic activities will experience no restrictions due to aircraft cabin pressure or when diving. This lifestyle product is thus also perfectly suited for women whose job includes frequent business trips.
Financing
---
Feel free to pay for your treatment in instalments. Here you can find further information about Financing.
Arrange a consultation appointment!
Nürnberger Klinik für
Ästhetisch-Plastische Chirurgie
Sibeliusstr. 15
90491 Nürnberg
Germany
Phone
0911 95 96 10

Telefax
0911 9596 130
WhatsApp
+49 175 7207500
Opening hours
| | |
| --- | --- |
| Monday – Thursday | 8 am – 6 pm |
| Friday | 8 am – 5 pm |